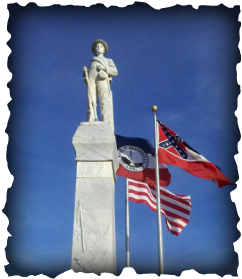 SCV CAMP 265
The Camp's Namesake, "The Rankin Rough and Ready's," was chosen to honor the original Company A of the 6th Mississippi Volunteer Infantry Regiment, C.S.A., organized in Central Mississippi.


Additionally, the original Confederate veterans of Rankin County formed United Confederate Veterans camps postwar and organized U.CV. Camp 265 in Brandon, MS.



---
Company A was raised in Brandon, MS in Rankin County in 1861, one of ten Companies in the Regiment comprised of men from Rankin, Leake, Smith, Scott, Copiah, and Simpson Counties.

-

Click for a Regimental History of the 6th Mississippi Inf Reg, CSA

- Purchase a copy of the Regimental History of the "Bloody Sixth" at right by 6th MS descendant and SCV member H. Grady Howell, Jr., author/historian.
---
Our camp meets on the FIRST SATURDAY of EVERY MONTH at Uncle Buck's Restaurant at BASS PRO in Pearl, MS, starting at 5:00pm.
~ Everyone is Welcome ~ Family Friendly Event
~ Address: 100 Bass Pro Drive, Pearl, MS 39208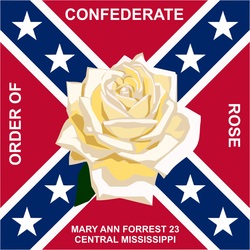 Our Camp has a sister chapter of women who assist us and the Mississippi Division Sons of Confederate Veterans in historical, educational, benevolent, and social functions, especially the preservation of Confederate symbols.
Formed in 2016, the MARY ANN FORREST ORDER OF THE CONFEDERATE ROSE chapter aids and helps further the cause of the Sons of Confederate Veterans as well as support all endeavors sponsored by the SCV. Go to:
www.maryannforrestocr.com for more information.
---
---
~ 2017 - 2018 Camp Officers ~
---

2nd Lieutenant Commander
Tom Lilly

---

1st Lieutenant Commander
Tal Floyd

---

---

3rd Lieutenant Commander
Ian Powell

---
*(LM) Life Members of the Sons of Confederate Veterans


---

Ways to SUPPORT Our SCV Camp
---
MAKE A DONATION

---
PURCHASE CAMP T-SHIRTS

Available in both Confederate Gray and Pink up to size XXXL.
Proceeds go to help fund the Camp's Annual Civil War Relic & Militaria Show.
Available at Monthly Camp Meetings as well as by contacting Cmdr. Tim Cupit at: timcupit@comcast.net
$20 donation
Option 2: Pay option for Tshirts

Pay here online
Pickup at Camp Meetings

---
BUY THROUGH AMAZON SMILE

Remember, only purchases made at smile.amazon.com will result in donations.

Put A Smile on Your Face - Support the Camp when you shop Amazon!

AmazonSmile is operated by Amazon and lets you enjoy the same shopping experience as on Amazon.com, but with a benefit to the camp. When you shop on AmazonSmile (smile.amazon.com), the AmazonSmile Foundation will donate 0.5% of your eligible Amazon purchase to SCV265.

Steps to use smile:

Click on the box at right ->
Bookmark the link to AmazonSmile so that you can support us every time you shop: (http://smile.amazon.com/ch/20-0910868)
Share this link with family and friends: http://smile.amazon.com/ch/20-0910868
---
WHEN YOU SHOP AT KROGER

Kroger Community Rewards
---